Need help?
Call 1300 935 532
You are going to get wet in this activity. Make sure you wear clothes you dont mind getting wet, we recommend a T shirt and board shorts
Want a fun and exciting way to see the sights of Caloundra on Queensland's Sunshine Coast? Then you have found it! On a jet ski tour you have the freedom to explore the scenic waterways of Caloundra and with a local guide you can enjoy the sights unseen by other tourists! Choose your jet ski safari below and either embark on a fast paced 25 km or a 50 km scenic tour of Caloundra's picturesque waterways. Zoom along the beaches and see historic and famous landmarks, encounter wildlife such as turtles and dolphins and hear the history of this stunning area from an experienced jetski guide! For an exhilarating ride and a scenic tour all in one book a jet ski safari when you next visit Caloundra!
Choose from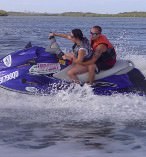 A 25km blast on a jet ski along wide open waterways to a locals 'secret spot' - a fun way to discover the diverse history and ecology of the Caloundra area!
A 50km jet ski tour which lasts 90 minutes where you will see the complexity of the Marine Park with islands, sandbanks, channels and a range of wildlife!